So I know this is old news, and many people would be shocked to learn this but I turned 30 in June. It's true. So while this isn't recent news I want to make sure and have this documented in the blog.
It was quite a day. Actually, quite a week. School was coming to an end and summer was just around the corner. I had plans to be helping out at the coffee shop and just like every year my birthday was the same weekend as the strawberry festival. And this year to add to the fun Matt's company planned a company party at the wings and waves water park on my actual birthday. (Yes, I think they did that on purpose) So, my big 3-0 day was packed. Just the way I like it. :) The day was starting with me at the coffee shop. The Strawberry Fest was in full swing and it was a great day at the shop! At about noon I hit the road and headed home to meet the family so we could make our way to the water park. We felt quite privileged to have our party there considering it wasn't opening to the public until the next day.
It was so great to get to experience that with a small-ish group. The lines were short and so we could do all the slides and other fun stuff without waiting forever. Matt and Madels are the dare devils of our family so they went on all the crazy slides while Jude and I stuck to the kids slides and the wave pool. Fine by me!
We were at the pool for several hours and enjoyed a nice lunch and of course spent some time in the arcade! This is where Matt started stressing. I didn't get it at the time but looking back I can see it! He was rushing us and I just didn't get it. Why would we have to leave early? We had plans to be at my parents house for dinner but we still had plenty of time to get there. So off we went. Speeding back to Salem. Once we were home the rushing continued. A few quick showers and a little make up for me and we were on our way. We pulled into my parents drive way to see the normal vehicles. The ones I expected to see for my bday dinner. We took our time getting out of the car and headed to the back yard. I am almost going to start crying again!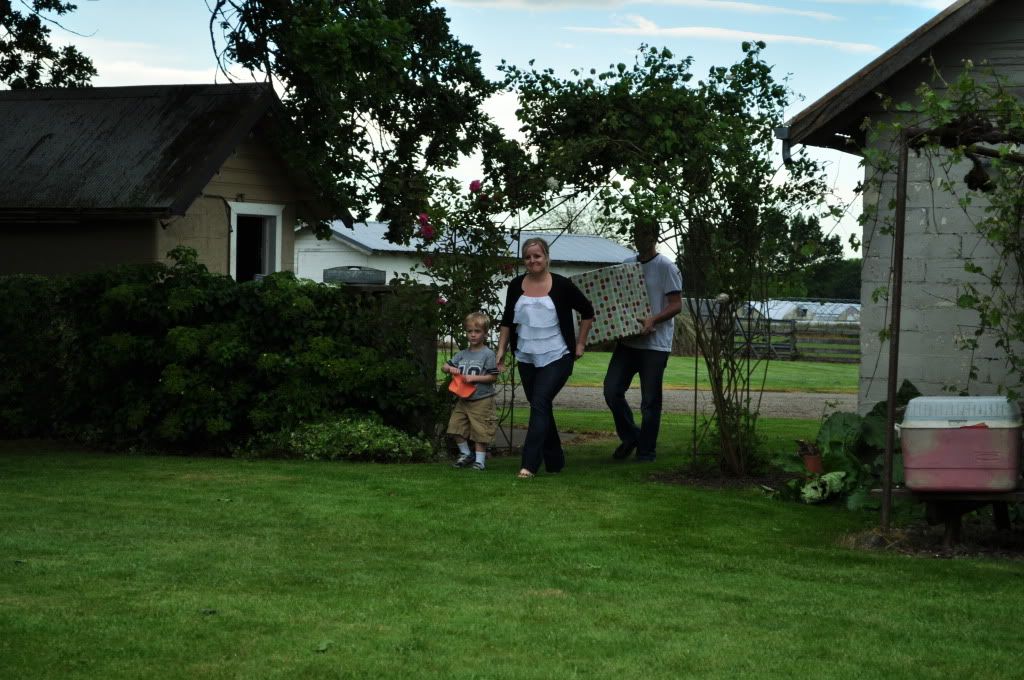 When I came around the corner I was SURPRISED! I can't even describe how I felt. I immediately started bawling! No not cute tears, not a little cry, full on ugly bawling! It was awesome. It was so crazy.
There were so many people there. My family and many of my friends had pulled a fast one on me. I had received texts, phone calls and facebook messages throughout the day from most of these people! And there they all were. It was so awesome.
Not only had Matt and my sister went to a lot of work to invite all the people I love, they provided quite the spread of food! Lindsey, Mom and I'm sure many others worked all day friday and saturday to put this beautiful table together. What a gift!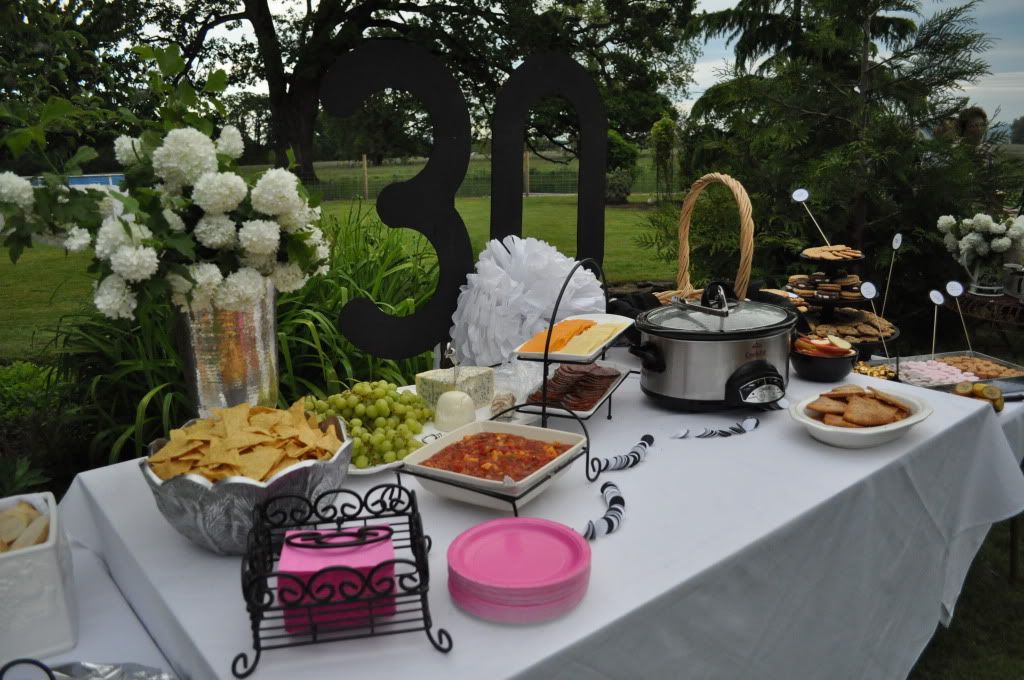 Linds also did a s'mores bar! It was so fun. She even made the graham crackers and some of the marshmallows!
There is never a shortage of food when Mom and Linds throw a party!
Fun sign made by my dad!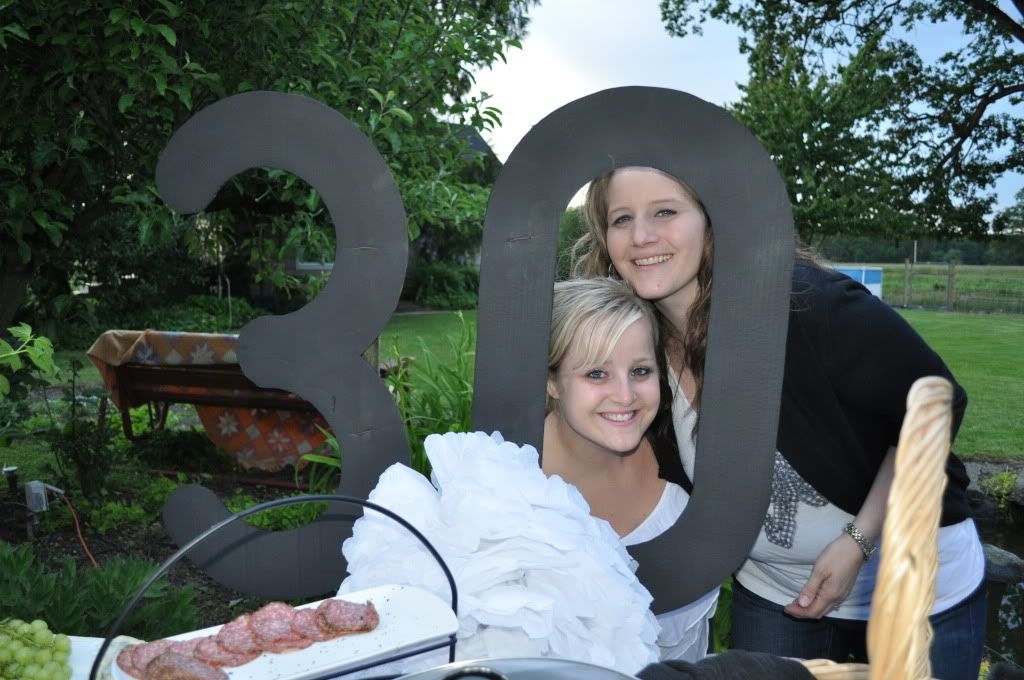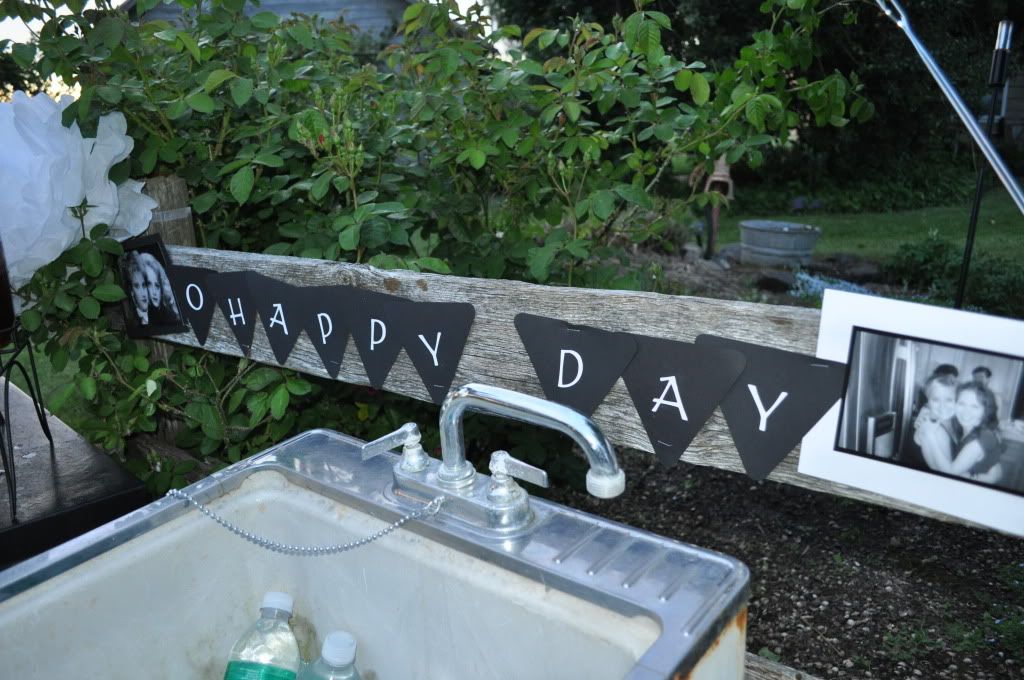 Lindsey also took lots of time putting together a wall of photos and a great scrap book. Full of sentiments from many friends and family.
We had a wonderful night full of laughs and of course many many more tears from me.
Thank you so very much to Shawn Garber for taking all of these pictures. I was so busy bawling my head off I didn't even have a chance to think about taking any.
It was such a great day! Full to the top just like I like it. I am so very thankful for my amazing family and wonderful friends. I wouldn't have had it any other way.