Spring break has begun here on the Palouse and we are loving it. I'm sure tomorrow when the rain begins I will be singing a different tune, but for now we are chipper and having lots of fun.
Yesterday was quite full. We spent the morning playing draw something. I know so thrilling. But the kids are really into it right now. We did a little running around and then for some reason I got the idea to bake a cake! A rainbow layer cake. Since the kids were home it was the perfect opportunity to produce another episode of Cooking With The King's!!!
Yes you saw that. There are 9 kids at my table! They crack me up. I love having the kids here. As crazy as it seems it makes my days easier. My kids are occupied and having fun. After my M & J went to bed last night I realized we hadn't turned the tv on all day! Major feat in this house I tell you.
The kids aren't always here. They kind of move in a pack from house to house. It is so fun watching them take off on their bikes and scooters for their next destination. My house often goes from shoes piled up in the doorway, kids running in and out to pure silence in a matter of moments. And i cherish both!
We are so thankful for street full of kids and amazing neighbors too.
Our latest activity! It's all fun and games until someone breaks a limb. I should probably put a stop to it before that happens. :)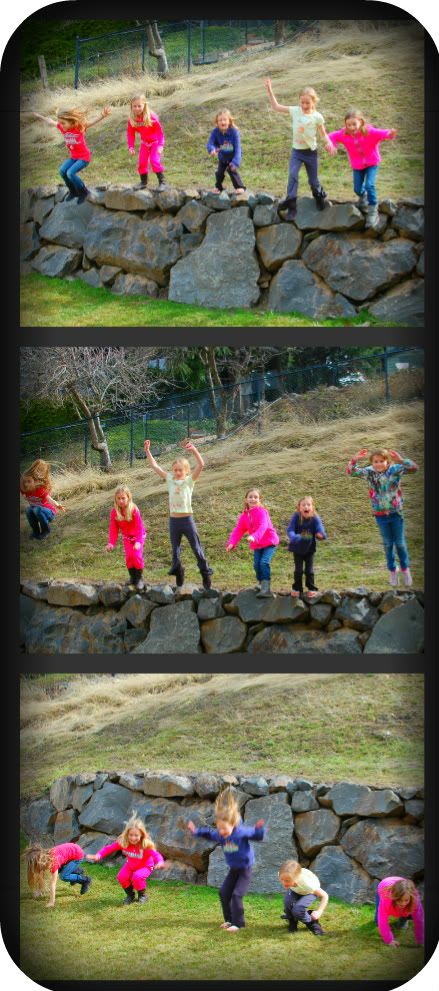 Stay tuned for more highlights from our last few months and the fun to come over our spring break!!!